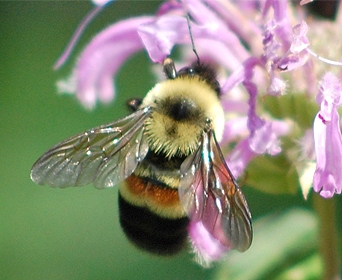 Annual Spring Dinner and Speaker
May 18, 2017: 6-8:30 PM at the Portland Golf Club
Join us at the beautiful Portland Golf Club again this year where we will have a festive evening of camaraderie, good food, and be entertained and enlightened by Professor Chensheng (Alex) Lu, PhD, Associate Professor of Environmental Exposure Biology. Harvard T.H. Chan School of Public Health. He will be speaking about his work around the global disappearance of the honeybee, entitled "The Role of the Honeybees (Apis mellifera) in Understanding the Toxicity of Sub-lethal Pesticide Exposure in Humans".
The disappearance of massive numbers of honeybees worldwide has raised the concern of losing the important pollinators and its implication to the food supplies. In his presentation, Professor Chensheng will discuss the onset of honeybee losses in 2006, the scientific evidence of its link to a popular group of insecticides, the global public policy implementation to address this ecological crisis, and its link to human health.
Biography: https://www.hsph.harvard.edu/chensheng-lu/
We will also discuss the Club pursuits over the past and upcoming year and vote on board members. The proposed list of board members will be posted prior to the event.
Interested in joining the Board? Contact Frank Hood at frankphood@gmail.com before May 11th.
DETAILS:
Thursday, May 5, 2016
6:00 - Reception; 7:00 - Dinner and Presentation

Portland Golf Club
5900 SW Scholls Ferry Road; Portland, OR 97225
(Business casual attire. Denim not permitted)

$45 Members/guest (dues current as of May 5)
$55 Non-member
Entree Menu Selections
1) Lemon Grass marinated pan-seared chicken with ginger butter, rice, seasonal vegetables
2) Hanger Steak with chimichurri sauce with starch and seasonal vegetables
3) Spinach, Feta Cheese, Pine nuts wild mushroom strudel
Must RSVP by May 14, 2017 to hold your spot!
Please note that appropriate dress is required...no jeans or casual shirts....jackets preferred for the men...comparable attire for the women.
Questions? Contact Frank Hood @ frankphood@gmail.com